All of the products shown below can be viewed in our Studio. After your Session you will have the opportunity to see and handle these products to get a feel of their quality and workmanship.
Archival Pro Canvas
The Archival Pro Canvas is for those looking for the finest product available. This award winning canvas captures detail and tonal range unmatched by any other. A certificate showing the product is produced to museum standards is also supplied.
450gsm Fine art canvas OBA Free (No yellowing over time)
45mm deep exhibition pro stretcher bars guaranteed never to warp or twist
Hi-definition 12 colour giclée printing
Fine art UV varnish for added protection
Archival certified for 100+ years (certificate supplied)
Hand stretched by our skilled craftsmen
Supplied in a white presentation box
Classic Framed Canvas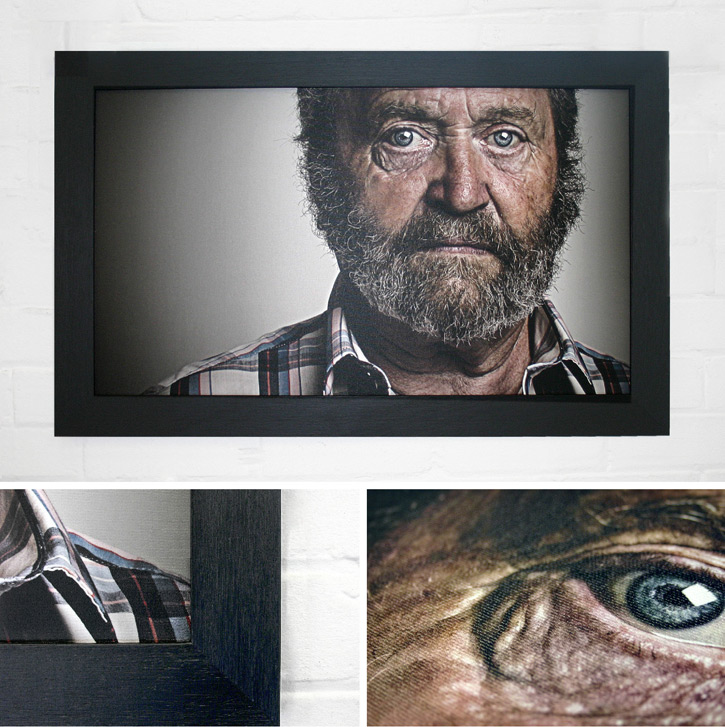 A truly timeless fine art wall piece. Our archival pro canvas is first hand stretched around our exhibition pro bars then set into the custom made deep frame to create a floating effect. The canvas bars and deep wooden frame moulding are constructed by our craftsmen ensuring this is a heavyweight product made to impress.
Choice of standard 380gsm or Pro 400gsm canvas
Frame in black, brown or white
Hi-definition 12 colour giclée printing
Fine art UV varnish for added protection and light fastness (no need for glass)
Professionally framed and finished
HD Acrylic
The HD Acrylic is the premier product on the market and has become one of our best selling ranges. Printed using the finest 12 colour technology and with our specially selected premium grade materials. Our fine white backing seals the image and protects it from heat and moisture.
5mm Crystal clear plexiglas
Facemounted with the highest grade fine art adhesive
Diamond polished edges
Supplied ready to hang with an aluminium subframe
Hi-definition 12 colour printing
Inks certified for 100+ years
HD Acrylic Orbs
Our HD Acrylic Orbs have become one of our signature contemporary products. This new circular format works with virtually any type of image and ensures a truly unique finish on the wall.

5mm Crystal clear plexiglas
Facemounted with optically clear adhesive
Diamond & flame polished edges
Supplied with white wooden subframe
(Solid aluminium subframe optional)
Hi-definition 12 colour printing
Framed Pro Mounted Prints
Our Pro Mount is inset into a custom made wooden tray frame with an 8mm surround creating the illusion that it is suspended within the frame. This is an ideal product for your images due to its crisp image and matte finish. Its light weight properties also make it ideal for childrens bedrooms and play areas.
Wooden tray frame in black or white
Hi-definition 12 colour printing
Certified for 100+ years
Bespoke Frames
Our Frame ranges have a wide appeal that ensure that they will fit perfectly in your home. With a wide range of sizes, frame colours and mounting options which fit 1-9 images you will be spoilt for choice.
Folio Print & USB Box


Don't take the chance of your fine folio prints getting damaged or lost. Instead keep them together and protected in our sophisticated, yet durable, presentation box. Our Folio Print Boxes hold either 5, 10, 15, or 20 Matted or Board Mounted prints. You can choose to have your Folio Print Box come complete with a USB to give you a total print & digital experience.
an elegant handcrafted and personalisable box in either landscape or portrait format
suitable for 5, 10, 15, or 20 images
available with USB Stick in various capacities