On July 18th I was honoured to photograph Stephanie & Dave's wedding at the beautiful Bunchrew House Hotel just a few miles outside Inverness.
Steph had her heart set on an outdoor ceremony underneath the Wishing Tree and it was touch and go as to whether she would have her wedding day wish fulfilled or not as the clouds were rolling in and there were a few spits of rain early in the morning. However the decision was made at 1pm that it was all systems go for an outdoor ceremony and the staff at Bunchrew in military precision set out the chairs for the wedding guests, the clouds dispersed and the sun made an appearance for the rest of the day. It was a beautiful ceremony and the backdrop of Bunchrew made for beautiful wedding photos.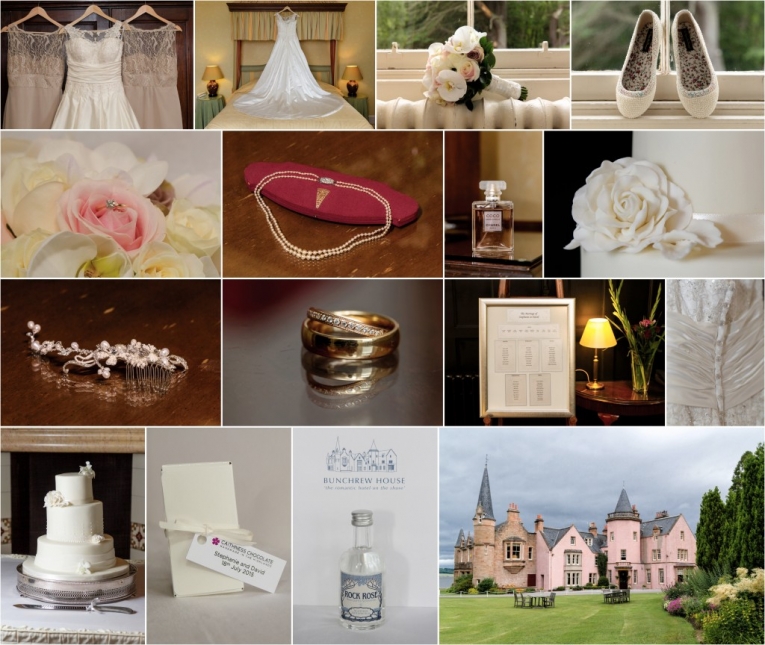 Where did you meet each other?
We were in the same year at high school, but we only started going out when we both went to university in Glasgow.
Was it love at first sight?
Not quite, we were both pretty young when we first met. Towards the end of high school, we spent some time together as mates because we had friends in common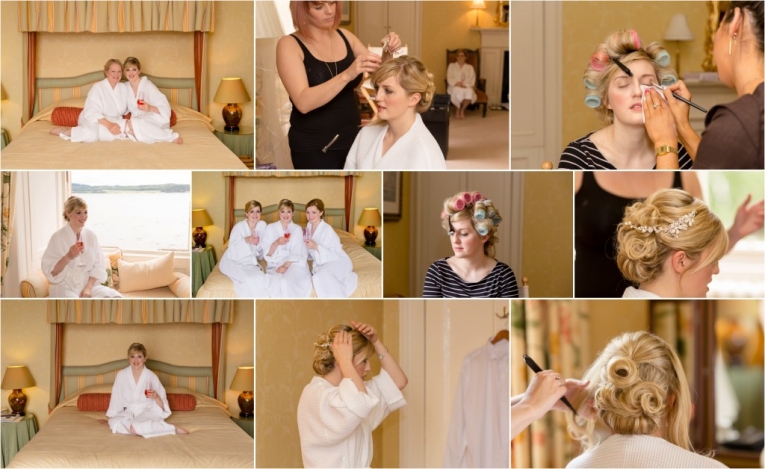 Long engagement or short engagement?
Somewhere in the middle… We got engaged in September 2013 and we wanted a summer wedding, so we got married in July 2015, because there was no way I could get organised in 10 months!!
Tell me about your dress…where did you get it, who was the designer, did you try on lots before finding "the one", how did you feel seeing yourself in your chosen dress?
It's a Stella York dress that I got from Simply Bliss in Wick. It was the first shop that we went to and we went with about a year to go before the wedding just to get some ideas of what I might like. It turned out that I was really keen on that one, but it was strapless. Beverley suggested adding an "illusion neckline" and Gail Macgregor (based in Elizabeth's in Thurso) made the top from just the tulle, lace "motifs" and beads…. her skills are amazing!
Why did you choose Julie Fraser Photography for your photographs?
We really liked Julie's photo's and the packages she offers, but we also picked Julie Fraser Photography because Julie is the type of person that we wanted to deal with.
Who did your flowers?
Amanda Call (based in Tomich, near Beauly) did our flowers and I would definitely recommend her to anyone getting married in the Inverness area
Where did you have your ceremony and reception – why did you choose those venues
The ceremony and reception were at Bunchrew House Hotel, just outside Inverness. We chose it because the setting is really nice; it's small, so you can have the whole place to yourselves and the service and food were fantastic. (Particularly the service, the staff literally couldn't be more helpful).
Who designed your wedding cake – who came up with the design?
Ros Campbell at Cups designed and made the cake. We had seen quite a few details from her previous cakes that we liked and she came up with a way to put together the ideas we had.
Who were your band and why did you choose them?
We had Whisky and we chose them because we wanted a mix of ceilidh dancing and other songs.
What was the most unforgettable thing about your wedding day?
Most of it is a pleasant blur, the day went so quickly, but the most unforgettable part was the exchanging of the rings.
Honeymoon or Staycation?
Honeymoon to Dubai then the Maldives… It was fab.
Do you have any tips for future brides who might be reading this?
Don't leave the "little details" to the last minute, it adds stress that you really don't need. Wherever possible, have a contact/wedding planner at the venue. Ours was fantastic and we were able to cover everything with her and we ended up with what we wanted. Also make sure you take at least 5 minutes at some point on the big day to spend just the two of you, it's supposed to be your day together after all.
Wedding Suppliers
Venue – Bunchrew House Hotel, Inverness
Photography – Julie Fraser Photography & Robert Taylor Photography
Wedding Dress – Simply Bliss, Wick
Dress Alterations – Gail Russell
Wedding Cake – Cups Tearoom
Flowers – Amanda Call
Make Up – Aspen Spa
Band – Whisky