Last weekend I was delighted to finally photograph Gilli & Colin's wedding day.  They'd booked me 2 long years ago and it seems such a long time ago but all of a sudden it was here, their Wedding Day and here's their story….
Colin was working with Pentland taxi's and took me to work one night. We couldn't stop speaking to each other.
Yes! It was the best feeling we've ever had!
 Long or short engagement?  It was a long engagement as we had only been seeing each other less than a year but we decided on a date 2 years ahead just so we knew we would have enough time.
Who did your hair/makeup and why did you choose them?  I chose Blow Your Top for my hair as we've been getting our done by them from as young as a I can remember so had no worries about what they could do and I loved the way my hair was on the day. My make-up was done by Monica Robak who used to live next door to my mum's house. I felt beautiful the way she did my make-up, I couldn't have looked better!
I got my dress from a little shop in Halkirk 2 years before the actual wedding. I tried on a few and got it down between 2 dresses but just loved the one I got. I felt amazing in my dress and was delighted with the price too!  Unfortunately the dress shop has now closed down.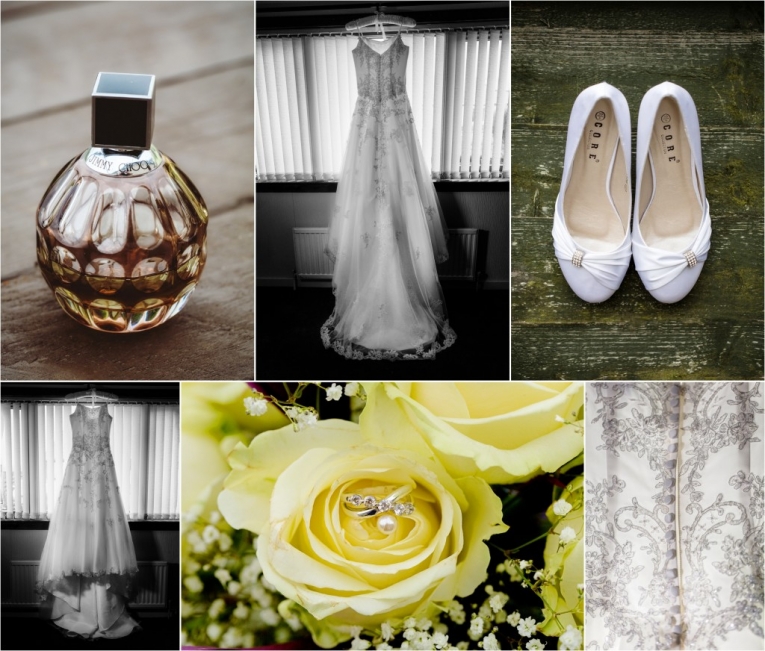 Who did your flowers?   Our flowers were done by a close family member, Helen. We were thrilled when she agreed to do them.  I couldn't wait to see them and we were delighted when we walked in to our centrepieces, better than we could ever expect and our bouquets were just amazing.
Where did you have your ceremony and reception – why did you choose those venues?  We had everything at the Weigh Inn Hotel in Thurso. It was actually my dad who had suggested having everything in the one place so we just kind if went along with it and glad we did. It was much easier not having to worry about putting transport on or how we were going to get from one place to the other.
Cups Tearoom designed our cake and again we were delighted with it! When we saw it for the first time I couldn't stop smiling, I didn't want to cut it. Colin actually came up with the design, he wanted the heart shaped cake and I had been looking through photos of different cakes and found one we both really liked but with Ros's help we made it our own design. Then Colin's friend Dave, who also did our video, had made our figures for going on top of the cake which we great too.
We didn't have a theme as such just the colour purple and had butterflies on our invites etc just so it all matched.   Katy from KG Events designed our invitations, menus, table seating plan, she decorated the hall and provided the beautiful chair covers and sashes that co-ordinated beautifully with our wedding colours.  We had things for the kids too because we didn't want them to feel left out. We like our munchies so we included a lot of sweeties on the day aswell just to make it more personal to us.
Why did you choose Julie Fraser Photography for your photographs?  We chose Julie because we were comfortable with her as she had previously done a photo shoot with Colin and I when we first started seeing each other.  Julie had also done a photo shoot with my family so we had no worries what so ever with her.


Our band were a local band called Cover 2 Cover. One of my closest friends husband and son are in the band so that's why we chose them. It meant so much to us for them to perform and they definitely didn't let us down. Our first dance was incredible and the whole night everybody was dancing.
Having so many of our friends and family who care for us there. It was great to share our day with everybody that was there. There were so many laughs,it was just a magical day,one that we'll never forget.


Try not to stress about things…Everything will come together on the day and just enjoy every minute of it.